[vc_row][vc_column]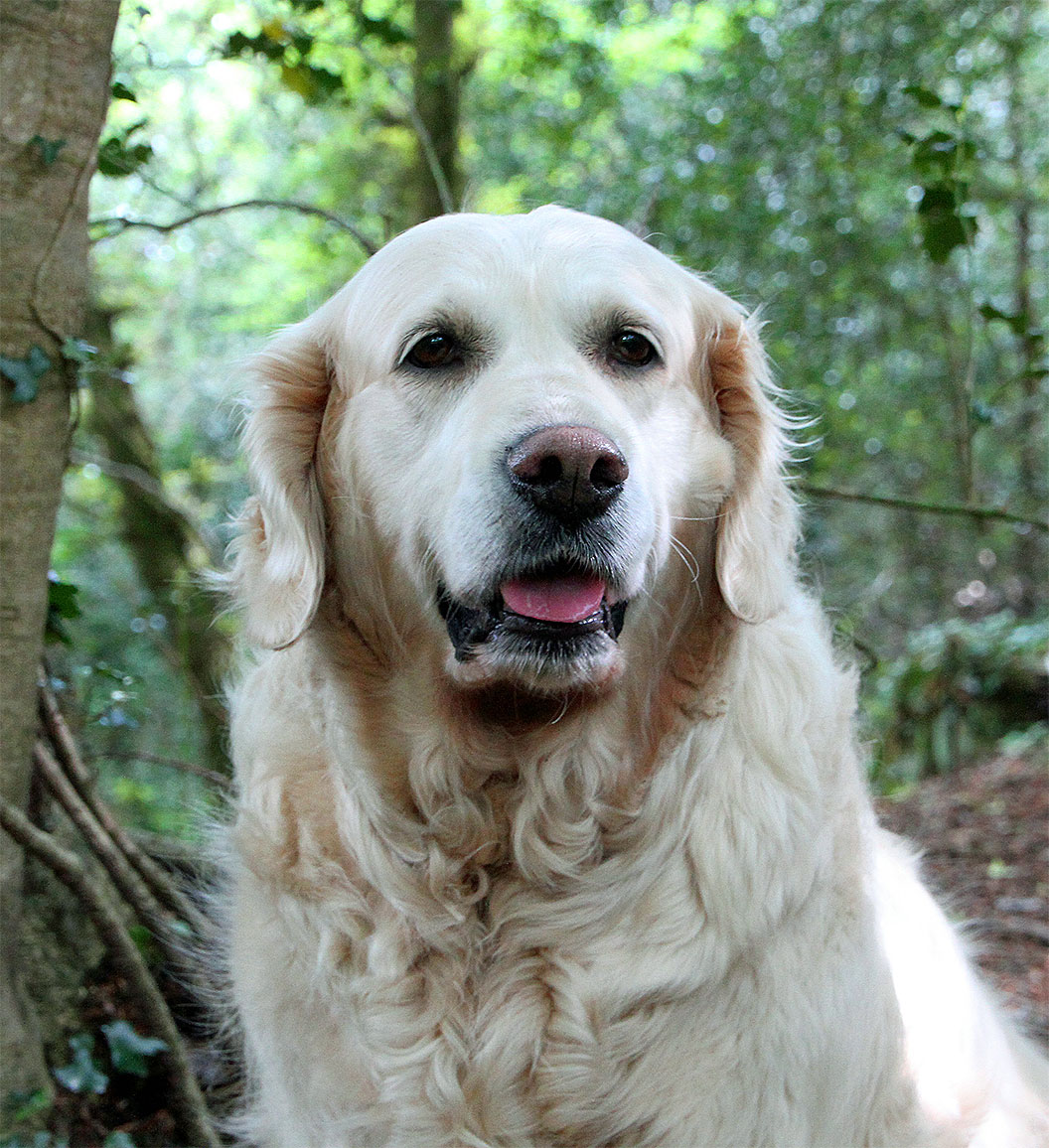 Stormerick Tin Can Ali – "Shiloh"
Date of birth: 01.01.2007 – 07.12.2016
Hips 7:7 – Eye Certificate Clear – Clear PRA (GR-PRA1)
Personality:
Shiloh bounced into our lives with attitude and energy, commanding attention from Storm and Reilly from their first encounter. Everything about this beautiful blonde, was big hearted, bold and brash. As a tiny pup she embraced the stealth of a Siberian Wolf with the comic clowning of the Keystone Cops and showed a skill for escapology that even Houdini would admire. In the heat of the moment I'd swear she'd give the equivalent of a canine laugh, almost as if the adventure was worth the reprimand.  When the mood took her she would excel, but if she couldn't be "bovvered" – believe me – wild horses wouldn't convince her otherwise and thus she affectionately earned the nick name "Vicky Pollard!"
She did however excel in her maternal duties and despite wanting nothing to do with the mating game – after three years of trying she gave up a bonny litter of eight platinum pups.  She was our Ms. Independence, never happier than off hunting on her own, head down a bunny hole and covered in mud and muck.  Sadly this buxom blonde left us just shy of her tenth birthday and she received some lovely compliments……..
"What a girl she was –  such a 'gorgeous galleon'  – the attitude of Vicki Pollard, with a touch of Marilyn Monroe and Diana Dors blonde glamour  – if she had been a human she would have worn a leopard skin turban, sworn like a trooper  – and lived on gin and chocolate.    I will always remember her majestic swimming at Porth Saxon beach and walking the pack at Trelissick with her sassy barking at anyone who looked like they needed a telling off.   And the puppies of course – who can forget Shiloh's mummy moments – and her beautiful pups.  She was such a big character – and a very special girl".
And another……
"What a 'maid' she was – as you say, big, bold and buxom and full of attitude and charm.  I think she would have been a cockney barmaid, full of the gift of the gab, but with a heart and soul of pure gold.  Peter adored her, as I did – I loved her independence and strength – a real powerful lady……."
She had an interesting pedigree, being a Ch Cabus Christopher grand daughter. This renowned golden was probably one of the most successful and influential stud dogs in the history of the breed. His total of 42 CC's has only ever been equaled by a grandson of his. He also pioneered AI (artificial insemination) way back in the sixties and Shiloh's sire was as a result of a sample that originally was sent to Australia forty some years ago, returning to the UK twenty eight years after his death and being successfully used to produce – Sh Ch (08) Camrose Time to Return. If evidence was ever needed to dispel the theory of "Best Before Dates" – this was it!
Parents
Grandparents
Great Grandparents
Great Great Grandparents

Sh Ch (08) Camrose Time to Return AI

Ch Camrose Cabus Christopher

Ch Camrose Tallyrand of Anbria

Ch Camrose Fantango

Ch Jane of Anbria

Cabus Boltby Charmer

Ch Ir Ch Cabus Cadet

Sh Ch Boltby Sugar Bush

Camrose Xellent Tearose
Fromeside Sharper than Ever of Canina

Sh Ch (93) Fenwood Jagger of Canina

Fromeside Flaky Dove
Camrose Betony
Linchael Titan of Camrose
Camrose Lillian
Stormerick Moonlight Kiss
Stormerick Fusillier

Sh Ch (92) Stanroph Soldier Boy

Ch (92) Paudell Easter Plantagenet at Kerrien

Stanroph Silent Tears
Purbarn Summer Time Special
Lorinform Thunderstorm of Purbarn
Purbarn Fiona
Stormerick Kiss From a Rose

Ch (95) Stanroph Sailor Boy

Ch (87) Meant To Be At Moorquest

Stanroph Shere Fantasy
Stormerick Kiss Me Kate

Sh Ch (92) Stanroph Soldier Boy

Purbarn Summer Time Special
[/vc_column][/vc_row][vc_row][vc_column width="1/1″][/vc_column][/vc_row][vc_row][vc_column width="1/1″][/vc_column][/vc_row]